OUR SERVICES | CALL US NOW: 954-637-4114
Refurbished Cubicles
Office Reworks is one of Florida's largest remanufacturers of quality grade A panel systems. We liquidate cubicles from large corporate accounts that have upgraded or down sized. We then truck them into our factory to have your choice of fabrics, finishes and laminates applied by our team.
Our professionally trained craftsman turn unwanted cubicles into "Like New" product for your new office. This saves the environment and your wallet unnecessary waste. Use common sense and pay almost half the price of new.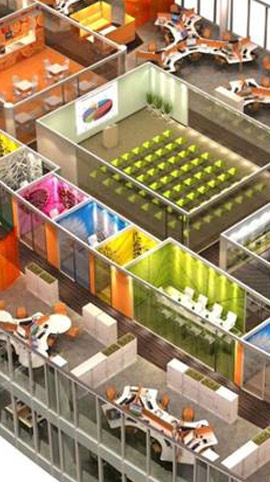 Space Planning and Design
Planning and designing your workspace is a team effort that takes creativity, attention to detail, and a thorough knowledge of your interior space and work activities. That's what AIS Certified Dealer Network members provide, ensuring high-quality products and services for all your locations. Office Reworks' space planning and design services start with in-depth research into your requirements for interior space. And since AIS Certified Dealer Network members are electronically linked, we can easily share project knowledge to facilitate the process.
After understanding your needs, we prepare a detailed design proposal that includes furniture selection. Then we produce block diagrams of each floor and create preliminary space plans, typicals, and a product budget.
We develop workspace layouts and installation drawings to scale using CAD, so that we can make an exact product count. Then the CAD specifications are converted into factory orders that allow the manufacture and shipment of products consistent with project schedules and construction progress. We can also help you lay out your workplace yourself, including architectural features and a limited vocabulary of products, using GIZA 20-20 planning and visualization tools. You can render these spaces dynamically in 2D or 3D and share your renderings with colleagues. And, when you're ready, you can view specifications and order detail, check lead-times, and generate error-free orders.
Office Reworks' commitment to innovation and design has led us to compile a comprehensive portfolio. Our unparalleled projects include office systems, seating, files and storage, tables and desks, wood casegoods, textiles and accessories. Design integrity is a guiding principle that provides insight into the way business is evolving and into what's possible. Our technical resources department will help make the most of your space and put our commitment into practice. "We believe good design is good business!"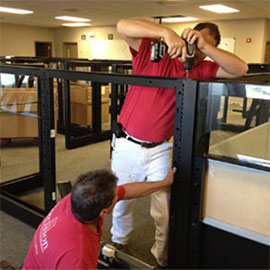 Liquidations and Asset Management
Office Reworks can liquidate all of your pre owned or unwanted inventory. Keep it out of the land fill and call us for a free estimate on purchasing your cubicles or office furniture.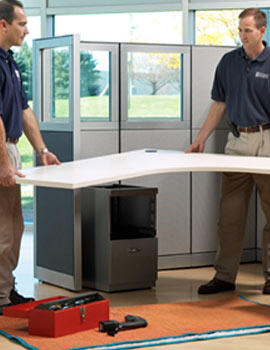 Delivery and Installation Services
We understand how critical proper delivery and installation are to your schedules, people, and work activities. We manage delivery and installation every step of the way. We ensure that all product is delivered according to schedules and coordinated with the site manager and tradespeople. We provide supervision, equipment, and all the necessary permits to proceed quickly and safely. And we verify the product against the delivery ticket with a commitment to clean, repair, or replace damaged product.

Our installation services don't just start when product is delivered. We plan the installation, prepare the site, and disassemble and remove any existing furniture. If desired, we'll move existing furniture and reinstall it in a new location.
Our installers are also AIS Certified—meaning they complete a series of training programs and demonstrate a thorough knowledge of installation practices. We follow prescribed procedures and adhere to plans and drawings. When the product arrives, our installers unpack, stage, and assemble it in compliance with the manufacturer's standards—and restore the area to broom clean condition.

Once installed, we check the product carefully to make sure it's level, aligned, and working properly. Then we clean and polish it as instructed by the manufacturer. Even after installation is complete, our service isn't. We also train your people to use the product, follow up to ensure you're satisfied, and make any necessary changes.
Service and Warranty
To keep your furniture in good working order, we provide ongoing maintenance services in support of all our manufactureres.
Scheduled maintenance services include inspection, cleaning, stain-prevention treatment, and lubrication as required. Should your products have warranty issues, our skilled, certified technicians will promptly inspect and repair your furniture on site or provide a replacement if necessary.
We're available to repair broken or malfunctioning mechanisms, reupholster fabric panels and seating, touch up painted surfaces, repair scratches, or refinish wood furniture. And to maintain the long-term value of your investment, we'll refurbish your products to like-new condition and match them to new furnishings or new decor. Simply fill out a warranty request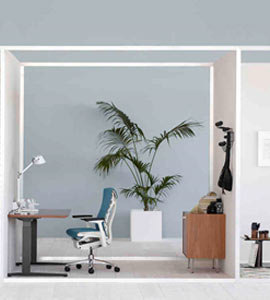 Relocation and Change Management Services
Businesses are always on the move, from large site-to-site relocations to everyday internal moves of people and furniture. We can help you manage churn efficiently, no matter where it happens.

Our web-based asset and inventory management tool connects all your warehouses and inventories across the country. It manages the level of assets needed for normal churn so changes and reconfigurations can be made efficiently. And we always keep you posted. We generate detailed monthly move reports that keep everyone in the loop so they can manage information and identify opportunities for improvement.

Our Certified Dealer Network is electronically linked across locations. We'll team with fellow member dealers throughout the process, coordinating schedules and resources, and sharing knowledge and critical information. As a result, your people and their work activities run more smoothly and costs are controlled.
Environmental
Green is good, but sustainable is even better.
While the trend and buzz word is to go green, Office Reworks has been working with environmentally responsible manufacturers for over a decade. We can assist your company achieving LEED® credits, SMaRT®, and Greenguard® certifications.
These organizations uphold standards that create meaningful change for our environment. Office Reworks offers many products that are composed of recyclable goods and materials that are conscientious of our ecosystem.
A green and environmentally friendly work place is a happy one.
Sustainability
Office Reworks' interest in the environment began with the strong convictions of its founder, Vern Glassman, who believed that corporations, like people, should see themselves as stewards. This commitment to the environment has taken shape through almost 20 years of programs, initiatives, and the many contributions of individuals and teams. During that time, concern for the environment has become part of Office Reworks' corporate life—from architecture to product design to operations.
In 2007, Office Reworks put into place a set of environmental goals that included a zero operational footprint. In the decade since, the company has sharpened its goals around the smart use of resources, eco-inspired design, and becoming community-driven. Its new 10-year sustainability strategy—Earthright—begins with three principles: positive transparency, products as living things, and becoming greener together.
Careers
Interested in joining the Office Reworks team?
At Office Reworks, we work hard and play hard. We are high-energy, team-oriented people who constantly look for new ways to be most responsive to our customers.
If this sounds like you, we welcome your application to be part of our team. Below is a list of our current openings. We are always looking for great talent, so if you don't see your ideal job listed, please submit your resume here.